Laminated Veneer Lumber - Construction Materials
Laminated veneer lumber consists of smaller strips of wood that have been glued together to form a larger one. It's a man-made product and usually falls under the category of engineered lumber. The size of these boards can only be limited to our imaginations.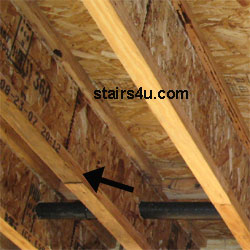 In the picture above, the black arrow points to the bottom chord of a floor truss. This particular floor truss was built using laminated veneer lumber. As a matter of fact, the entire truss joist in this picture was created by using small pieces or strips of wood, that were glued together.
What's The Most Common Use For L.V.L.?
The main use for laminated veneer lumber is to create structural roof and floor beams, but can they can also be used for studs, plates, stare stringers, rafters and joist. They can be designed to carry enormous roof or floor loads and you don't have to worry about them warping, twisting or even bowing.
What's The Longest Length Available That You Can Purchase Laminated Veneer Lumber?
I just got through visiting Georgia Pacific's website, who is one of the distributors of this product. They state that the standard lengths of these products can be as long as 48 feet but can be special ordered in longer lengths.

I can only imagine, with products like these, what engineers and architects are going to be able to design and build in the future.
Stairs
/
Stair Glossary
A
B
C
D
E
F
G
H
I
J
K
L
M
N
O
P
Q
R
S
T
U
V
W
X
Y
Z