Door Swing Clearance In Landing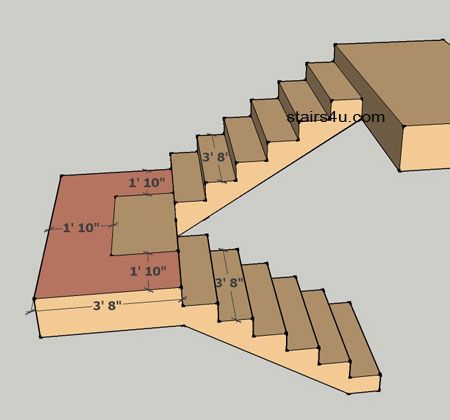 The building code requires that the door does not reduce the landing width by less than half.
Reference: 2012 International Building Code - 1009.8 Page 255

Example: Half the distance of 44 inches( Minimum Stair Width) is 22 inches and no doors can swing into the tan area on landing in picture above that would represent half the overall stair landing width in both directions.

Attention: Don't forget to check with your local building department to verify any building codes on this website. This information could be incorrect or outdated. Building codes are updated regularly and some building departments have different interpretations for certain building codes.


Stair Landing and Doorway Designing Tip: If you have a 36 inch stair landing and you're planning on using a 36 inch or wider door, there is a very good chance that it won't meet this building code. Either make the stair landing larger or get creative, but these are red flags to experienced contractors, architects and designers.
In the illustration above, the door is swinging more than halfway into the landing minimum clearance of 22 inches(half the distance of the minimum landing requirement). The distance between the front edge of the door and the front edge of the stair nosing is only 14 inches, yet needs to be 22 inches. In order for this particular stair design to work, we would need to add 8 inches to the landing width that is currently 44 inches, making it 52 inches.