Stair Designs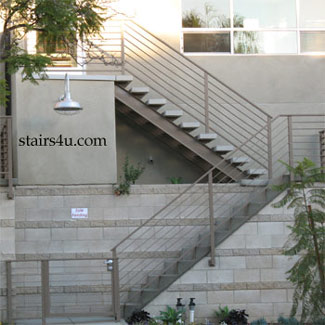 Stair Types
Z Stairs - Double L Stairs

Z Stairs With Walls Under Stringers
Z Stairs With Walls Under Landing

Double Landing Stairs

Bottom And Top With Single Step Stairs

Circular Stairs - Curved Stairs

Circular Stairs Open Under With Wall
Circular Stairs Open Under No Wall

Flare Stairs

Flare Stairs With Landing

Spiral Stairs
Box Stairs
Closed Stairs
Stairs With Cantilevered Landing
Direction Changing Stairs
Housed Stairs - Router Out

Housed Open Stairs
Housed Close Stairs

Starting Steps

Flared Stair - Oval
Boxed End

Victorian Stairs
Colonial Stairs
Porch Stairs
Deck Stairs
Interior Stairs
Exterior Stairs
Office Stairs
Single Family Stairs
Apartment Stairs
Monolithic Stairs
Portable Stairs
Suspended Stairs
Trapezoid Stairs
Ladder Stairs
Zipper Stairs
Split Level Stairs
Stair Design Questions And Answers
Stair Materials
Brick wood
Stair Design And Building Code Problems
Stair Floor Plans
Stairway Elevations
porch - deck
Picture Galleries
The chart below is based off of my personal experience and average construction prices. Prices may vary, depending upon materials, stair design and additional costs.


Experience Level Required
Do It Yourselfer - Someone with a Little Experience with Construction
Experienced Carpenter - Someone Who Works As a Framing Carpenter on a Regular Basis
Master Carpenter - Someone with Extraordinary Carpentry and House Framing Skills
Cost To Install
Inexpensive - 100 - 1,500 Dollars
Moderate - 1,500 - 5,000 Dollars
Expensive - 5,000 and up Dollars
Safety Use Level
Poor - This Usually Relates to a Poor Design with Uncomfortable Steps and Hand Rails That Aren't Easily Accessible.
Moderate - A Good Design, but Could Require Users to Pay Attention, While Using Stairway.
Excellent - An Excellent Design with Handrails or Walls Located with in Reach, While Walking up and down the Entire Stairway.
Elevation or Section - Side view of stairs
Floor Plan - Looking at the stairs from the top down.