Missing Floor And Landing Overhang
This has got to be one of the biggest problems I've seen during my years of building homes or working on other construction projects that require a stairway. I can't believe how many times I came across a construction project that didn't provide the correct overhang at the upper floor or stair landing.
Reference: 2012 International Building Code - 1009.7.2 Page 254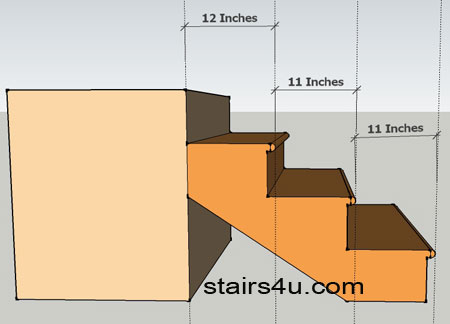 The illustration above provides you with a better view of what I'm referring to. As you can see this is a three-step stairway, with the lower two steps measuring 11 inches, but without any type of overhang on the upper landing, we end up with a 12 inch wide third step.

Remember, the maximum stair tread variation is 3/8 of an inch and this particular stairway has a 1 inch difference and might not meet your local building codes.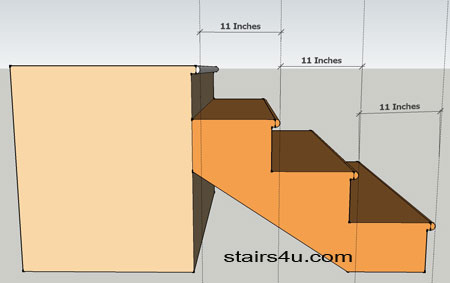 Realistically, something like this wouldn't be difficult to fix. All you would need to do would be fasten a strip of wood at the top of the landing, the exact size of the stair tread step or nosing overhang, to correct the situation.

This strip of wood will need to be securely fastened, because if it isn't, it could loosen over time and create a safety hazard. This really is something that you should be aware of, before designing and building any stairway.

Attention: Don't forget to check with your local building department to verify any building codes on this website. This information could be incorrect or outdated. Building codes are updated regularly and some building departments have different interpretations for certain building codes.