Problems With Open Risers Stairways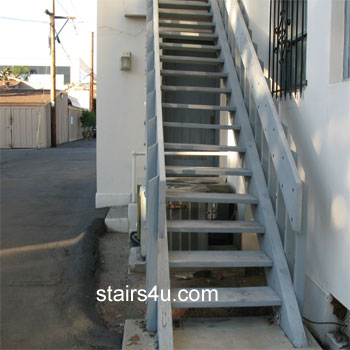 Here's a short list of some of the problems you could have with an open stairway, depending upon where it's located and what its primary use is.

1. The biggest problem with an open stairway has to do with any fires near or underneath the stairs. This is the primary reason why exit stairs need to have closed treads. Could you imagine opening the door to a second or third story building, only to find out there's fire coming up in between the stair treads, simply because they're open and weren't closed.

2. If the space between the stair treads is larger than 4 inches, you could end up having a problem with a child's getting their head or body stuck in this area. You would be surprised at how many people and animals have got stuck in these areas.


3. You could also end up with problems walking under stairs with open risers. I've seen construction projects on three or four story buildings where the stairs stack on top of each other, going floor to floor and if something falls on the stairway above or is dropped from someone using the stairway, then there's a chance of it getting kicked through the open risers and down to the next level.

The problem here would be anyone walking in that specific area, during the time something fell. This would be a problem you wouldn't have with closed risers.

Attention: Don't forget to check with your local building department to verify any building codes on this website. This information could be incorrect or outdated. Building codes are updated regularly and to some building departments have different interpretations for certain building codes.