Balustrade
The word balustrade is just another stair building term that professionals use in place of baluster. After you've spent a few years in the construction business, you'll find other words used by different individuals that mean the same thing.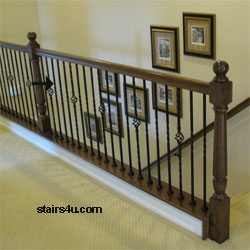 These are the vertical handrail components used to protect people from falling through the handrail or guard rail system. Balustrade can be made from wood, metal and plastic.
Balustrade Installation Tip:
Make sure that the stair balusters are secured properly. If they're not properly secured, they might not be able to do their job.

I've seen finish carpenters put one or two small nails into the bottom of the balustrade, where they connect to the stairway and this is a good. If I was to apply a little pressure to the bottom of a poorly connected baluster, there's a good chance that it could easily be dislocated.

Most experienced hand rail builders, use thick wood dowels or double-sided lag screws, to create a strong, solid hand rail.
Stairs
/
Stair Glossary
A
B
C
D
E
F
G
H
I
J
K
L
M
N
O
P
Q
R
S
T
U
V
W
X
Y
Z