Bending Risers - Staircase Construction
A bending stairway riser can come in different shapes and sizes, like the one in the picture below. This particular one will be finished with carpeting, instead of using a hardwood or other stair building materials.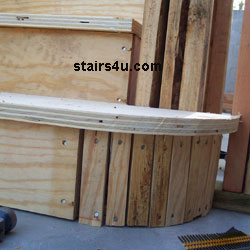 It's not uncommon to find the bottom of a stairway tread and riser, with a quarter circle or half circle, finished with a hardwood. Even though it's not the most popular method used for finishing off a stairway, the curved risers always look nice.

Keep this in mind, it's going to be easier to finish a bending stair riser with carpeting, than it ever would be to finish it in a hardwood wood. As a matter of fact, it would even be difficult to build something like this with a soft wood.

Track home builders have been using tricks like these for years, to create elegant looking stairways, without spending a lot of money.
Stairs
/
Stair Glossary
A
B
C
D
E
F
G
H
I
J
K
L
M
N
O
P
Q
R
S
T
U
V
W
X
Y
Z