Bows And Crowns - Lumber Imperfections
A bow represents a curved piece of lumber, not a straight one. If you were to look down the edge of a 12 foot long 2 x 6 and it wasn't perfectly straight, you would have a bow or crown in the lumber.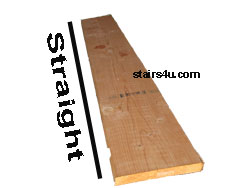 How Does This Relate to Stair Construction or Framing?

Quite frankly, you could end up with an inferior stairway that has large gap's, that can create problems when finishing the stairs.

If possible, you need to select the straightest pieces of lumber for your stair stringers, treads and other stair framing parts. You can do this by going down to the lumber yard and picking through the lumber yourself.

Simply pick the piece of lumber up and look down the length of the lumber for any severe bows. I've seen a 12 foot long 2 x 6 with a 1 inch crown in it before and unless you're planning on cutting it up into 1 foot pieces, it would be hard to use something like this for building anything.
Stairs
/
Stair Glossary
A
B
C
D
E
F
G
H
I
J
K
L
M
N
O
P
Q
R
S
T
U
V
W
X
Y
Z