Box Newel
Box newels can be located through out the stairway, but are usually located at the top or bottom (first or last stair tread). They're usually constructed from all sorts of different pieces of the same type of wood.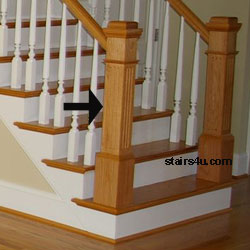 It's not uncommon to have a boxed newel with more than 20 different individual pieces, cut and shaped to form one part of the stair handrail system.

Most stair newels are shaped from one piece of wood on a lathe and come in different shapes and sizes. Both a box newel and a shaped newel can sit in front of or on top of the stair treads.

The picture above shows the boxed newels sitting on top of the bottom stair tread. However, this type of handrail system might not meet your local building code requirements.

Some building codes require the hand railing to extend 12 inches beyond the last step. It all depends on how the building department interprets the stair building code.
Stairs
/
Stair Glossary
A
B
C
D
E
F
G
H
I
J
K
L
M
N
O
P
Q
R
S
T
U
V
W
X
Y
Z