Box Stairway - Construction And Design
Box stairway construction and design is any stairway that has two walls on each side, placing the stairs in between them. You can think of it like this, if you place a set of stairs in a box, it would probably be in a confined area.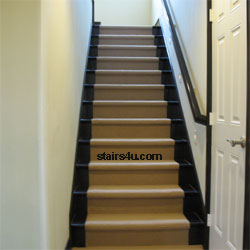 I really don't know where the term originated from and it might not make a lot of sense to everyone, but that's my story and I'm sticking to it.

You can also use the phrase," Box Stairway" in another way. Any set of stairs that came to you in a box could also be considered a boxed stairway.

I'm not kidding around, you've heard of Jack in the Box, now you have stairs in a box. The Internet has now provided homeowners with many different ways to acquire and build a set of stairs.

If there's one thing I can say about building stairs, it's that there are plenty of words that mean plenty of different things and plenty of different people to use them.

Why do you think I built this glossary? I wanted to eliminate some of the confusion.
Stairs
/
Stair Glossary
A
B
C
D
E
F
G
H
I
J
K
L
M
N
O
P
Q
R
S
T
U
V
W
X
Y
Z