Butt Joint - Stairway Woodworking Instructions
A butt joint is when you join any piece of wood together with a flat surface or 90° angle. The picture below represents two individual pieces of wood that will be glued together, in order to form one piece.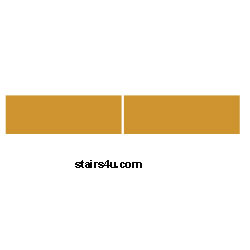 There are other methods that work better, providing you with a stronger joint, like tongue and groove, mortise and tenon and dovetails. A butt joint is used for creating tabletops, cabinet doors, risers and treads.

If you're really looking for a strong woodworking joint, I recommend using another method. Even though it's rare to have a butt joint fall apart, it does happen every once in awhile.

If you're going to use this method on the exterior of a building, make sure that you use exterior glue, for additional wood joint reinforcement. If you're going to purchase building materials that have been glued together, make sure that you verify that the products can be used on outside of the building.

Sometimes all it takes is a little bit of moisture or heat to separate any woodworking joints.

I was recently in one of our local home improvement centers, purchasing an 18 inch wide by 36 inch long piece of pine, that was created, using 2 inch strips and gluing them together. I asked one of the store representatives for more information about the product and he told us that you couldn't use it outside.

They had already had problems with this product.

You can apply this information to any furniture, handrail components and other stair parts, also.
Stairs
/
Stair Glossary
A
B
C
D
E
F
G
H
I
J
K
L
M
N
O
P
Q
R
S
T
U
V
W
X
Y
Z