Chamfering - Wood Working And Stair Building
Chamfering is simply cutting a bevel on the edge of a 90° angle. A chamfer can range anywhere from 5 to 85 degrees and can be shaped in a variety of forms. You can use a router, shaper or they saw to make a chamfer.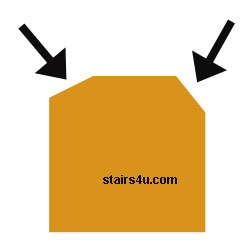 The most common place on a stairway that you will find any type of chamfering, will be on your stair treads and handrailing parts. It's not uncommon to find a stair tread with a small chamfer on the front edge or both sides of the top of a 1 x 6 handrail.
Stairs
/
Stair Glossary
A
B
C
D
E
F
G
H
I
J
K
L
M
N
O
P
Q
R
S
T
U
V
W
X
Y
Z