Column - Structural House Framing Support Post
A column is either a decorative or structural house framing support post. Columns can be referred to as posts that are used to support the weight of another part of the building. Usually, these posts hold up large beams that support the weight of floors and roof framing systems.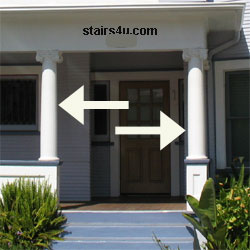 Decorative columns can be built around structural support posts on the job site or brought to the job in sections. It's not uncommon to find an elaborate post that was shaped or built at a factory in two pieces.

Each one of these pieces will represent either the front or the back of the decorative column. The installer simply places one on one side of the structural post and then places the other one on the other side, using some type of adhesive to fasten the two sides together.

Decorative and structural posts come in all sorts of different shapes and sizes.
Stairs
/
Stair Glossary
A
B
C
D
E
F
G
H
I
J
K
L
M
N
O
P
Q
R
S
T
U
V
W
X
Y
Z