Commercial - Zoning And Building Planning
A commercial building is usually referred to as an office building. These buildings are used and occupied by most businesses. However, most commercial zoning and building planning do not allow these businesses to manufacture certain products.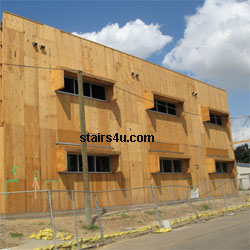 I heard of one commercial building community outside of Stanford University that wasn't allowed to produce any waste. In other words, they only wanted service based businesses to occupy their commercial properties.

Your local planning department is responsible for delegating, which parts of the city or county will be used as commercial, residential or industrial. These were lessons that we learned from our past.

Most people aren't happy living next to a freeway, school or factory. Freeways are noisy and most people don't want to live in a residential neighborhood, next to them. However, this type of location could be desirable to a retail shopping mall.

In older cities or cities without planning departments, you could find a few houses, right next to a smoky factory or busy train station. It's not something that we think about, all the time, but there are is a lot of planning that goes into most communities.

Houses are located in residential areas, factories in industrial areas and commercial buildings near freeways and busy roads. Most cities have sections zoned for specific use.
Stairs
/
Stair Glossary
A
B
C
D
E
F
G
H
I
J
K
L
M
N
O
P
Q
R
S
T
U
V
W
X
Y
Z