End Return - Stair Handrail Construction
A stairway handrail end return is any part of the stair handrailing that curves into a wall, at the end of the handrail or stairway. The picture below provide you with an excellent example of a stairway handrail, end return.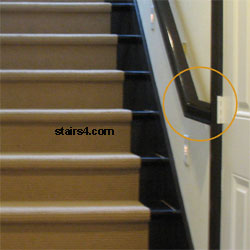 In the picture above, the handrailing was mitered, creating the end return. You can also use curved or rounded stair parts that can be purchased from a stair material supplier.


Handrail Construction Tip
Why do we need the handrail to return into a wall?

Well, I actually have the answer to this one. It's called protecting people who use purses and clothing. Local building codes usually require handrail returns, to eliminate stairway users from getting their shirts are purses caught on the handrailing.

I don't carry a purse, but before these building codes were created, I hooked my shirt sleeves on a few stair handrails and it wasn't long before I got the message. Open stair handrails are unsafe.

I can't tell you how many times I watched a woman's purse get caught on an open stairway handrailing.
Stairs
/
Stair Glossary
A
B
C
D
E
F
G
H
I
J
K
L
M
N
O
P
Q
R
S
T
U
V
W
X
Y
Z