Equipment - Construction Tools
Any tools or any type of mechanical assistance required to build and construct a staircase, could be referred to as equipment. Circular saws, framing squares, power tools and other hand tools, along with forklifts and cranes, fall into the category of equipment.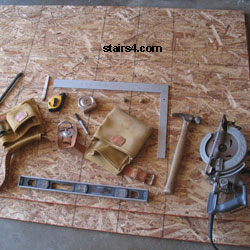 Believe it or not, when I framed stairways for large housing tracts, I only needed my nail bags, framing square, stair gauges, circular saw, extension cord, hammer, level, pencil, tape measure and chaulk line, to build a rough set of stairs.

I'm not even going to start on the list of equipment that a finish carpenter needs to build a simple stairway hand railing system. You can practically double the amount of tools required, to build a Straight handrail and triple the tools needed to build a curve or circular one.

One thing's for sure, in the construction business, if you're planning on building anything, you will need some equipment, how much you actually need, depends upon the difficulty of the project.
Stairs
/
Stair Glossary
A
B
C
D
E
F
G
H
I
J
K
L
M
N
O
P
Q
R
S
T
U
V
W
X
Y
Z