Face Grain Plug - Stair Wood Finishing
A face grain plug is a piece of wood that's used to fill any hole in a piece of wood, furniture, handrail or stair tread's and risers. The plug can be glued or wedged into the hole that it was originally drilled to fit into.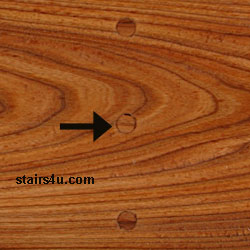 Face grain plugs usually protrude or stick up, just a little bit, when finished. After the plug has been securely fastened and any glue has dried, it can be sanded down, creating a level surface.

I used to make my own face grain plugs from scrap lumber that I was working with. You can usually purchase a face grain plug cutting drill bit at your local home improvement center or lumber yard.

These plugs can also be installed in the same direction as the existing wood grain. Some of them practically disappear, when you're installing them in the right direction and they were cut from the same lumber used to build your project.
Stairs
/
Stair Glossary
A
B
C
D
E
F
G
H
I
J
K
L
M
N
O
P
Q
R
S
T
U
V
W
X
Y
Z