Face Stringer - Stair Framing And Construction
A face stringer can represent two parts of the stairway. The picture below shows a face stringer in the rough framing stage. Another example of a face stringer would be attached to the side of a finished open stairway.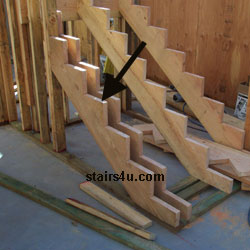 I've been working on homes and building stairs for over 30 years and have never referred to this part of the stairs as a face stringer and I doubt that most construction professionals, actually do.

However, if you're planning on working with stairs or constructing buildings, it wouldn't be a bad idea to understand the meaning of different words used by different contractors, architects, engineers, carpenters, plumbers and even stair builders.

A face stringer represents a stringer that is even with a wall (picture above) or attached to the side of a finished stairway.

Stairs
/
Stair Glossary
A
B
C
D
E
F
G
H
I
J
K
L
M
N
O
P
Q
R
S
T
U
V
W
X
Y
Z