Fillet - Stair Handrail Construction
A fillet would be a strip of wood that goes underneath the bottom of a wood handrail. These types of handrails usually come with a fillet and will be installed, in between each individual baluster or spindle.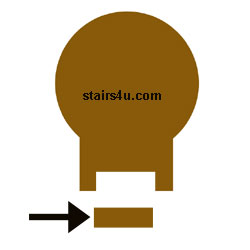 Handrails like these are usually used with square balusters. If you had a 1 - 1/4 inch square baluster or at least a baluster that was square at the top. You could use hand railing that was specifically designed with a 1 - 1/4 inch notch out of the bottom, of the banister.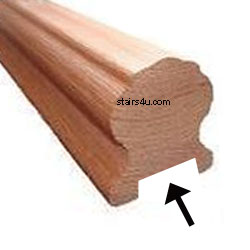 Handrail balusters or spindles that are round or dowel shaped at the top, can be used with these types of handrails, but they're not recommended. Make sure that you match the right balusters to the banisters.

If your going to build a stairway handrail system and you don't really know enough about the construction process, it wouldn't be a bad idea to purchase your handrail components from someone who does.

Contact a local stair part manufacturing company or distributor. It's not uncommon to find a home improvement center or lumberyard representative who hasn't ever built a handrail or has enough experience to guide you through the parts purchasing process.
Stairs
/
Stair Glossary
A
B
C
D
E
F
G
H
I
J
K
L
M
N
O
P
Q
R
S
T
U
V
W
X
Y
Z