Finished Floor - Construction And Building
A finished floor is any floor that has been completed on the interior or exterior of the building. This would include floors that have been carpeted, painted, stained or covered with a variety of materials, as long as it has been completed and can pass a building inspection, by a professional home inspector.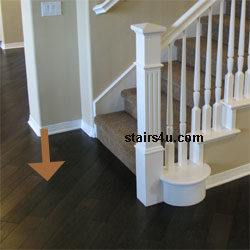 In the picture above, you will notice a laminate wood floor that has been installed through out the lower level of this home. The carpeted stair treads, make a nice transition into the finished floor.
Stairs
/
Stair Glossary
A
B
C
D
E
F
G
H
I
J
K
L
M
N
O
P
Q
R
S
T
U
V
W
X
Y
Z