Fire Block - Framing Stairways And Building Safety
A fire block is used around stairway walls to prevent two things, just in case there ever was a fire in the home. The first thing they do is prevent the fire from spreading into the next level and then prevent the fire from getting fresh oxygen from another section of the home.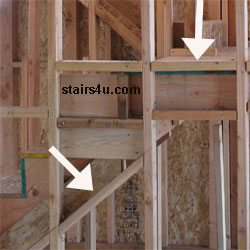 Fire blocks are strategically positioned at stair landings and next to stair stringers. They're usually located in the wall framing, next to the stairway.

The white arrows in the picture above are pointing to a couple of stairway fire blocks. After the walls have been drywalled, plastered or finished, these blocks will be in the perfect position to do their job.

Fire blocks are also used through out the rest of the home, around the ceiling framing.

If the blocks are positioned correctly around the stair landing, they can also provide the floor trim installation carpenter with additional backing to nail the floor trim into.
Stairs
/
Stair Glossary
A
B
C
D
E
F
G
H
I
J
K
L
M
N
O
P
Q
R
S
T
U
V
W
X
Y
Z