Framing Square - Stair Building Tools
A framing square has two sides that are perpendicular to each other and are at a 90° angle, forming the perfect corner of a four sided square. One side of the framing square is usually 2 inches wide, while the other side is 1 - 1/2 inches wide. The 2 inch side of the framing square is 24 inches long, while the 1 - 1/2 inch side is 16 inches in length.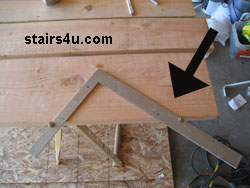 Along with a measuring tape and pencil, the framing square is one of the most important tools that a stair builder can have in their possession.

The framing square is used to lay out the stair stringers, carriages or horses. It can also be used to double check sections of the stairwell to make sure that it was built correctly and isn't out of square.

If you look at the picture above, you will notice two stair gauges that are attached to the framing square. These little wonders of the construction world, can save you a lot of time and help you create the perfect stair stringer.

There are other methods for laying out stair stringers, without using a framing square. The secret could be somewhere else in the website, keep reading.
Stairs
/
Stair Glossary
A
B
C
D
E
F
G
H
I
J
K
L
M
N
O
P
Q
R
S
T
U
V
W
X
Y
Z