Glue - Stair Building And Home Construction
Glue is one of the most common adhesives used to build stairways, homes and even doll houses. I probably don't need to give anyone a description of glue, because most of us have learned how to use it, when we entered primary school.

However, I would like to provide you with some more information about construction adhesive, just in case you forgot. Remember what your teachers said, don't eat the glue," no matter how good taste.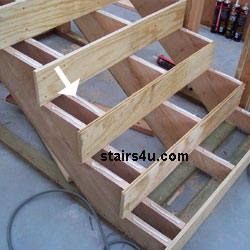 In the picture above, I used a construction adhesive to eliminate the possibility, of the stair treads squeaking in the future. This doesn't guarantee that this stairway won't ever have problems with the steps squeaking, as people walked up and down them, but it's a step in the right direction.

By applying liberal amounts of glue on to the top of the stairs stringers, could strengthen the bond between the bottom of the stair tread and the top of the stair stringer. This is where most of your stair squeaking will take place. The moment the nails loosen up, due to the wood shrinking or expanding, you're going to hear about.

The upper right corner of the picture shows a few containers of construction adhesive. It's not in the picture completely, but if you look under the last stringer on the right, about three steps up, you will notice a partial view of the construction adhesive dispenser or large caulking gun.

There are other types of glue available on the market today that will provide you with additional strength and flexibility. Some of these construction adhesive's actually move as the lumber shrinks or expands.
Stairs
/
Stair Glossary
A
B
C
D
E
F
G
H
I
J
K
L
M
N
O
P
Q
R
S
T
U
V
W
X
Y
Z