Gusset - Stair Construction Hardware
A gusset is just another word for a nailer. Now you're probably wondering what a nailer is. If you look at the picture below you will notice that someone cut a small 2 x 6 and they're using it to connect the stair headout to the floor joist.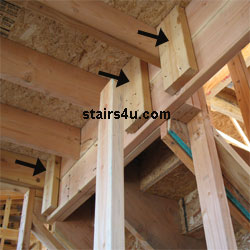 Gussets come in a variety of shapes and sizes and can be cut out of different materials. Builders have been using pieces of wood to hold other pieces of wood together for centuries.

I worked on a job one time where someone used a plywood gusset to attach roof rafters together, at the ridge or top of the roof framing. I didn't know it at the time, but this could have been the first engineered roofing system in the world.

Don't forget to check out other words like gusset, I've sprinkled them out, throughout the entire stair glossary. I can't believe how many words there are to describe the same thing in the construction industry.
Stairs
/
Stair Glossary
A
B
C
D
E
F
G
H
I
J
K
L
M
N
O
P
Q
R
S
T
U
V
W
X
Y
Z