Handrailing Wall Return - Stairs
A handrailing wall return would be the part of the stair handrail, railing or gripable handrailing, that dies into or returns into a wall. It doesn't matter whether the railing is made out of metal or wood, the part of the handrail that ends at the wall, like the picture below, would be the perfect example of a handrailing wall return.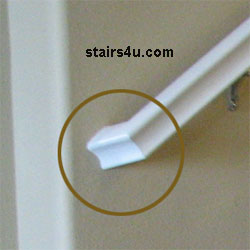 Handrail Construction Tip: If you notice the railing returns into the wall at a 45° angle. Something like this is perfect and will prevent purses and loose clothing from getting caught on the handrailing.

If this handrail return was at a 90° angle or it didn't return into the wall at all, it would be the perfect spot to grab someone's purse handle or loose clothing. I've even heard stories of homeowners who wake up in the morning with religious symbols hanging from their handrails.

Okay, maybe I'm getting a little carried away here, but they are dangerous and there have been plenty of times, when I witnessed someone getting snagged by the open handrail monster. It just makes sense to have handrailing wall returns on any stairway.
Stairs
/
Stair Glossary
A
B
C
D
E
F
G
H
I
J
K
L
M
N
O
P
Q
R
S
T
U
V
W
X
Y
Z