Helix Stairs - Design And Construction
The best way to describe a helix, would be to look at the picture below. It's a three-dimensional curved object that circles around a center line. If you're familiar with one of America's favorite toys, the slinky, all you need to do is pull the slinky apart and you've got a helix.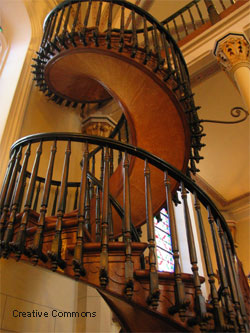 Now when it comes to building a set of helix stairs like this, you've really got to know what you're doing. I personally have never attempted to build this type of stairway, but obviously they can be built. Otherwise we wouldn't be looking at the one in the picture above.

All I can say about this particular stairway, is that it is an architectural wonder.

If you're interested, the helical stairway is located in Santa Fe, New Mexico, United States of America. It was commissioned to be built in 1872 and makes two complete revolutions up to a choir loft.

According to Wikipedia, the name of the Church is called," Our Lady of Light Chapel." Like I said earlier, the stairway is a modern marvel.
Stairs
/
Stair Glossary
A
B
C
D
E
F
G
H
I
J
K
L
M
N
O
P
Q
R
S
T
U
V
W
X
Y
Z