Hidden Bolts - Building Stair Instructions
A hidden bolt is a bolt that was covered up by some type of building materials, like wood. In the picture below you can't see the hidden bolt, because it's hidden, but you can see the round wood plug that was used to cover the bolt up.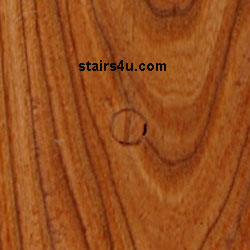 In order to hide a bolt, you will need to countersink a hole into the board, before inserting the bolt. You will need to allow for the thickness of the wood plug and the head of the bolt.

For Example: If I had a 3/8 of an inch wide wood plug and a 1/2 inch thick head on top of the bolt I was going to use, I would need to make sure that I had at least a 7/8 of an inch minimum, hole that my wood plug and the head of my bolt would fit into.

You're not going to be able to hide a bolt like this on a 3/4" wide board. It would actually be difficult to hide a bolt like this in a 1 - 1/2 or 2 inch thick board and still have enough would remaining on the board, to provide you with enough structural strength.

One time I was inspecting a stairway, on one of the jobs that I was working on. When I noticed that the stair builder had over drilled the holes on a 4x4 post that was going to be used as a very important, structural component of the stairway handrail system.

The moment I applied a little pressure on the 4x4 post, it broke. Even though the stair builder got mad at me, he ended up thanking me later on. As a rule of thumb, only remove what you need to, in order to hide your bolts, otherwise you could be weaken part of the stairway.

Make sure that you plan out every detail of your stairway and handrail, before purchasing any of the parts or building the stairs. This is probably the best advice I could ever give anyone. Don't forget, that hidden bolts won't work on boards that are thinner than the width of the wood plug and head of the bolt.
Stairs
/
Stair Glossary
A
B
C
D
E
F
G
H
I
J
K
L
M
N
O
P
Q
R
S
T
U
V
W
X
Y
Z