Interior - Home Construction And Building
The word interior means inside. In the construction business, the word interior often refers to the inside of a building. A set of interior stairs would be located inside of a home and a set of exterior stairs would be located on the outside.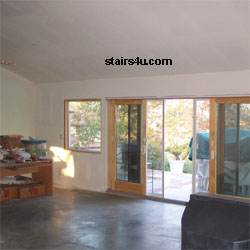 There's a big difference between interior and exterior stairways. As a matter of fact, there is a big difference between building something on the inside of your home and building something on the outside of your home, no matter what type of building project it is.
Exterior Stairs
These stairways will be exposed to the elements, rain, snow, moisture and heat. In extreme climates, where temperatures range well over 100°, a wood stairway can literally take a beating.

I've seen wood stairways with 3/4" cracks in them and one stairway needed to be replaced, not repaired, the entire stairway needed to be replaced, in less than five years after it was constructed.
Interior Stairs
These stairways are going to be on the inside of your house and can be finished in a variety of ways, that you couldn't use on the outside. There's a good chance that a nice indoor carpeting wouldn't last very long on the exterior of a building.

Even though you're exterior stair finishing options are limited, that's not the case on the interior. You can use a wide variety of carpeting, hardwoods, softwoods, tile, glass and other building materials to construct the stairway.

You can also use a wide variety of different paints, stains and lacquers to finish the stairs. Just keep a few of these things in mind, when planning or designing an exterior in interior set of stairs.
Stairs
/
Stair Glossary
A
B
C
D
E
F
G
H
I
J
K
L
M
N
O
P
Q
R
S
T
U
V
W
X
Y
Z