Lamb's Tongue - Woodworking Design
A lamb's tongue can be referred to as a few things in the construction business. Most of the time it's referred to a small curve on the corner of a piece of wood or trim that makes a smooth transition in the opposite direction, to eventually die into a sharp corner.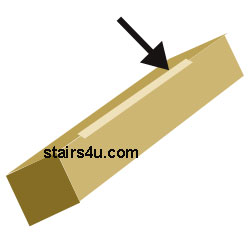 However, it can also be a detail on a piece of floor trim or skirt board. If you really want to get confused, type lamb's tongue into a search engine on the Internet, it won't take you long, to figure out how many different descriptions there are for these words.

I even looked it up in the dictionary, and couldn't come up with something crystal clear. Instead of explaining it to you, I'm going to take a few pictures for you and provide you with as many examples of a lamb's tongue as I can find.

Until then, don't forget to check out more fascinating words in the stair glossary and find out how they're used by different construction workers.
Stairs
/
Stair Glossary
A
B
C
D
E
F
G
H
I
J
K
L
M
N
O
P
Q
R
S
T
U
V
W
X
Y
Z