Level - Stair Construction Tools
A level is a tool used by construction workers to provide them with a perfect or almost perfect horizontal direction. In the picture below, I'm using a level to verify that the stair stringers are perfectly Straight, in a horizontal direction. Levels come in a variety of shapes, sizes and even colors and can now even be purchased over the Internet.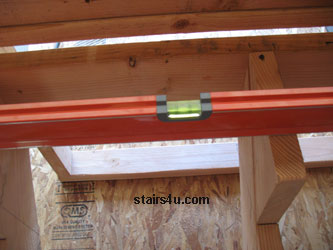 If you've been building stairs as long as I have, you probably have a wide assortment of different types and lengths of levels. I had levels, ranging from 6 inches to 96 inches in length and even had a couple of laser levels.

As a matter of fact I even had a water level and a builder's level, before my house burned down in 2007. Each one of these levels served its own purpose and need. The smaller ones were used in confined areas and the larger ones were used for walls, floors, ceilings and roofs.

It's hard to build a safe set of stairs without understanding, whether or not certain parts of the stairway are going to be plumb or level. This is a must in the construction business.

Plumb = a Line Running in a Perfectly Straight Vertical Direction, up and down.

Level = a Line Running in a Perfectly Straight Horizontal Direction, Right to Left.

Levels can also be used as Straight edges, to double check floors, walls and ceilings, before they're drywalled.
Stairs
/
Stair Glossary
A
B
C
D
E
F
G
H
I
J
K
L
M
N
O
P
Q
R
S
T
U
V
W
X
Y
Z