Measuring - Construction And Carpentry
Measuring is the process used to figure out the exact distance between two objects. In the picture below the stair builder is using a tape measure to measure the distance between the top of the second tread and the top of the first one. Remember to measure twice and cut once, especially if you're measuring expensive pieces of lumber.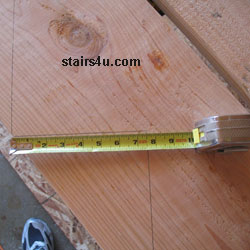 Measuring is probably one of the most important skills that a construction worker will need to work efficiently in the construction industry. There are plenty of methods used by a variety of different trades, to measure different things and some of them don't require a tape measure.

Measuring Tape Safety: When I was younger I use to extend my tape measure out about 15 feet and then let it reel back into the tape measure at high speed. I thought this was neat, until I broke a few of the ends off of my tape measure.

Since I was ultimately responsible for my tools and it was up to me to purchase another tape measure, it didn't take me long to realize that this wasn't as need of a trick as I thought it was. Isn't it funny how wasting money on dumb things that we do, can often become are best teacher.

Now for the biggest problem I had, while letting my tape measure fly back into its container at high speeds. Every once in awhile I would cut my finger or hands, as the razor-sharp edges of the tape measure flew out of control.

If you're looking for a tip or maybe some advice about measuring tape safety, try to avoid impressing your fellow construction workers and use it with caution.
Stairs
/
Stair Glossary
A
B
C
D
E
F
G
H
I
J
K
L
M
N
O
P
Q
R
S
T
U
V
W
X
Y
Z