Metal Stairs - Construction And Building
It shouldn't be difficult to provide you with an example or definition of metal stairs. This would be any stairway constructed out of metal. The picture below provides you with an excellent example of a metal stairway that could be used as a fire escape.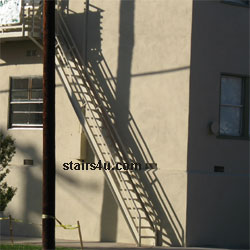 Metal can provide building owners with an extremely durable stairway. If these stairways are built correctly and maintained, they could last for decades. However, if they are not maintained, they will rust and it won't be long, before you need to replace or repair them.
If They Last For A Long Time, Why Aren't They Used In New Homes?
Believe it or not, wood stairs are cheaper to build and most home builders aren't willing to spend the extra money, for metal stairs. I worked on track homes for years and if the real estate developers could save any money, anywhere, they did.
If You Were Building a Custom Home, Would You Use Metal Stairs?
If you're directing the question at me, the answer would be no. Metal usually provides home designers with a cold feeling, where would provides most of us with a feeling of warmth.

Let's face it, I'm a carpenter and have been working with wood for a long time and don't plan on switching to metal in the near future.
Stairs
/
Stair Glossary
A
B
C
D
E
F
G
H
I
J
K
L
M
N
O
P
Q
R
S
T
U
V
W
X
Y
Z