Mid Rail - Stairway Handrailing
A mid-rail is usually referred to as a railing located in between the upper handrailing or banister and the top of the stairway. The picture below provides you with a perfect example of a mid-rail, located between the stairs and the banister.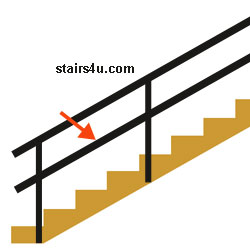 If you're going to design a stairway and rail system using a mid-rail design, make sure that you build it correctly. Most building codes require that you can not push a 4 inch round sphere through the entire handrailing, anywhere.

To be more specific, make sure that you do not have any areas between your banisters and mid-rails, with a distance of more than 3 - 7/8 of an inch. If you really want to get technical, make sure that you do not have any spaces less than 4 inches.

I realize that you could misinterpret that last paragraph. Let me break it down for you in decimals. You can't have a space less than 3.99999999999999 inches.

Stairway metal handrailing can be built efficiently using mid-rail designs. It's not uncommon to find a set of stairs built out of steel, with a simple mid-rail handrailing design.
Stairs
/
Stair Glossary
A
B
C
D
E
F
G
H
I
J
K
L
M
N
O
P
Q
R
S
T
U
V
W
X
Y
Z