Nails - House Framing Hardware
I probably don't need to provide anyone with a description of a nail, but just in case, it's a pin shaped metal object that's used for fastening two objects together. The picture below provides you with an excellent example of three different types of nails, used for stair building and construction.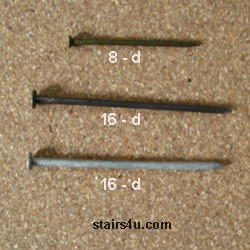 The most common nail used by house framers is a 16-d sinker. This nail has a lubricated coating over the steel that provides carpenters with a way to drive nails easier and faster, into wood.

A common nail usually doesn't have a protective coating or lubricant and these nails are usually harder to drive. These nails are also a little larger and often split the wood you're trying to fasten together.
What Kind Of Nails Do I Use On The Buildings Exterior?
I recommend using galvanized nails and my second choice would be zinc coated nails. Galvanized nails seem to last longer though. You're probably wondering why I didn't mention stainless steel nails or screws, but they could end up costing you a small fortune and most home builders aren't going to spend any more money than necessary.

If you're going to use a pneumatic nail gun or a screw gun, you could actually chip some of the zinc coating off of the screws and nails, while driving or screwing them into wood. This of course would expose the steel to any moisture and it wouldn't be long before they started to rust.

Make sure that you use the right nails for the right project.
Stairs
/
Stair Glossary
A
B
C
D
E
F
G
H
I
J
K
L
M
N
O
P
Q
R
S
T
U
V
W
X
Y
Z