Notched Stair Stringer - Building And Framing
Here's another simple definition, notched stair stringers would be any stringers, carriages or horses which have sections of the stringer, that have been removed. The picture below provides you with an excellent example of a notched stair stringer.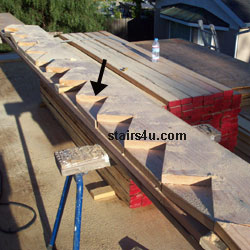 A notched stair stringer is probably the most common stringer that's used today in new homes. Over 90% of all of the stairs I ever installed, were made using these types of stair stringers.

Stair Stringer Cutting Tip: Don't over cut your stair stringers at the corner of the notch. This would be where the back of the stair tread meets the lower part of the stair riser.

Some carpenters use a hand saw or reciprocating saw to finish the cut, but all I'm asking you to do is avoid cutting further than necessary, while using a circular saw.
What's The Smallest Piece Of Lumber I Can Use For A Stair Stringer?
It all depends upon the type of stairs. If you're going to use a notched stair stringer, it wouldn't be a bad idea to use 2 x 12's or 2 x 14's. This recommendation only applies to stairways that have an 8 inches or less, stair risers, along with a 10 inches or less, stair treads.
Stairs
/
Stair Glossary
A
B
C
D
E
F
G
H
I
J
K
L
M
N
O
P
Q
R
S
T
U
V
W
X
Y
Z