Oak - Stair Materials And Lumber
Oak is one of the most popular woods used today, for building handrails, stairs and furniture. It's usually knot free and has relatively few lumber imperfections. The picture below provides you with an excellent example of what one type of Oak looks like.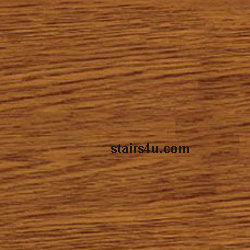 Even though I used a lot of mahogany while I was working on projects in wood shop, while I was in the seventh grade, I switched and now use Oak to build furniture, cabinets, stairways and handrail systems. It is one of my favorite woods to use and I love the way it looks, when naturally finished or stained.

Oak is probably the most used hardwood for building stairs and handrails that are going to be stained or finished without paint. I would imagine that more paint grade lumber is used for stairs and handrailing, than any other wood combined.

Now, if I was going to use a hardwood in my own home, what would it be. You guessed it, Oak, I used it throughout one of the homes I owned and would probably use it again. It's readily available and it's not too expensive, in Southern California.

The most popular Oak sold in my area is Red Oak.
Stairs
/
Stair Glossary
A
B
C
D
E
F
G
H
I
J
K
L
M
N
O
P
Q
R
S
T
U
V
W
X
Y
Z