Oriented Strand Board - Lumber And Framing Materials
Oriented strand board is a man-made engineered product that's used for floor and roof sheeting. It's made from small chips of wood that are glued together under high pressure. The picture below provides you with an excellent example of what a piece of oriented strand board looks like.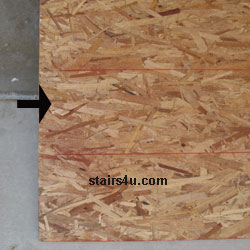 Oriented strand board is often referred to as O.S.B.. When I first started working in 1978, we didn't have oriented strand board, but today most home builders couldn't live without it. To put it simply, oriented strand board is cheaper than plywood and that's one of its biggest advantages.
Advantages Of Oriented Strand Board
When it's finally time to install the floor sheathing, tongue and groove O.S.B. Is hands down, easier to install than plywood. It even seems to provide builders with a flatter surface than plywood, however, I don't know if that's some type of optical illusion, but it does look flatter. Other than that, I can't think of any other advantage O.S.B. Would have over plywood.
Disadvantages Of Oriented Strand Board
It's not as strong as plywood. There have been plenty of times where I've dropped something on 3/4" O.S.B. floor sheathing and had it go right through the floor. I've also missed, while swinging at a nail and drove the head of my hammer, right through a piece of 3/8" oriented strand board.

I don't know if it's as simple as the fact that I worked with plywood longer than I have worked with OSB. However, I'm not as impressed with some of the engineered building products as the newer contractors or stair builders.
Stairs
/
Stair Glossary
A
B
C
D
E
F
G
H
I
J
K
L
M
N
O
P
Q
R
S
T
U
V
W
X
Y
Z