Out Of Level - Carpentry And Home Building
The best way I can describe something that's out of level, would be by using the picture below. Something that is level, is perfectly flat, for example the still water in a pond is perfectly level. However, the bottom of this stairway is sloping at an angle, towards the driveway and is out of level.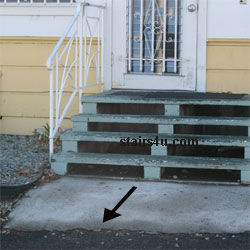 Problems With Stairs That Aren't Level
The biggest problem with a stairway that out of level, would be the safety hazard that it creates. Most people are use to walking up and down stair steps that are perfectly level.

Any part of the building that isn't level, could create an equilibrium problem. One time I was at an amusement park that had part of the building designed specifically to be out of level, to provide viewers with an optical illusion. Before I actually got through the guided tour, I was starting to get dizzy and my legs were starting to quiver.
Using A Level For Construction
I can't think of one carpenter I ever worked with who didn't own a level. If you want to build high-quality stairs, decks and homes, you're going to need to own a few different types of levels.

Remember, levels come in a variety of different shapes and sizes. They can even be purchased with rotating laser lights, if you really want to go the extra mile and make sure that you don't build anything that's ever out of level.
Stairs
/
Stair Glossary
A
B
C
D
E
F
G
H
I
J
K
L
M
N
O
P
Q
R
S
T
U
V
W
X
Y
Z