Paint Grade - Stair Building Materials
Paint grade building materials can be made out of a variety of different types of wood. They can be made out of solid wood, small pieces of wood and even saw dust. The picture below provides you with an excellent example of a stairway that's going to be painted, using paint grade lumber.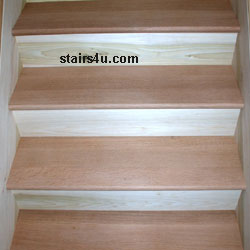 Why wouldn't you use paint grade lumber instead of expensive hardwoods, especially if you were going to paint it anyway?
I couldn't agree more, if I was going to paint something, I wouldn't use an expensive hardwood. However, if an architect or home designer is trying to get a specific look for the stairway, you will usually need to use a specific type of wood, to create the desired effect.

The picture above provides you with poplar stair risers and mahogany stair treads. Both of these woods will provide you with two different looks and finishes, after their painted. The stair treads are going to be painted brown and the risers are going to be painted white.
Painted Stairs Can Create Safety Problems
If you're planning on using an oil base, semi gloss or high gloss paint on your stair treads, you could be creating a safety hazard. Gloss paints usually create a slippery surface, when moist.

To prevent someone from slipping and falling down the stairs, it wouldn't be a bad idea to use a carpet runner or individual stair tread carpet pads on a stairway that you're planning on painting. You can even purchase a nonslip or skid resistant materials, if you're not interested in using carpeting.

You don't have to believe everything that I tell you, but the first time that someone slips on any smooth stairway, you should automatically go into safety mode. If someone slips and falls, it's obviously too late, but you're probably not going to want it to happen again. This is when you need to make the necessary repairs, otherwise you could find yourself dealing with the same problem in the future.

Painted stairs will usually suffer from high traffic and need to be painted regularly. If you have a steady supply of people walking up and down your painted stairway on a regular basis, it won't be long before you start to see the wear and tear patterns, throughout the center of the stair treads.
Stairs
/
Stair Glossary
A
B
C
D
E
F
G
H
I
J
K
L
M
N
O
P
Q
R
S
T
U
V
W
X
Y
Z