Plow - Stair Handrailing
A plow is the groove notched into the bottom of a handrailing banister. The picture below provides you with an excellent example of a groove (plow) that was notched into the bottom of a handrail banister.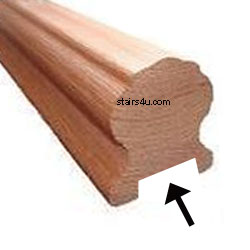 Handrail Construction Tip
If you're going to use spindles or balusters with round tops, you're probably not going to want a plow in the bottom of your banister. You can always purchase a handrailing banisters with flat bottoms or without a plow cut into it.

If it's your first time ordering stair parts, you might want to order them from a stair supply warehouse. Usually the associates who work there, have enough knowledge to get you through the process safely.

I don't recommend going to a popular Home Improvement Center, because most of the associates who work in these large stores, don't know the first thing about stair handrails. You might spend a few more dollars ordering your handrailing parts from a Stair Supply Distributor, but it could save you some serious frustration, while you're building your handrail.

Look at it this way, most Home Improvement Centers don't have the parts you need at their store. Some of these orders can take up to six weeks and that they need to reorder anything else, it could take you a while, to finally finish your handrail.
Stairs
/
Stair Glossary
A
B
C
D
E
F
G
H
I
J
K
L
M
N
O
P
Q
R
S
T
U
V
W
X
Y
Z