Portable Stairs
Portable stairs would be any stairway that could be moved. This would include stairs that are used for mobile homes, trailers and raised floors. The picture below provides you with an example of a stairway that could be moved and therefore falls into the category of portable stairs.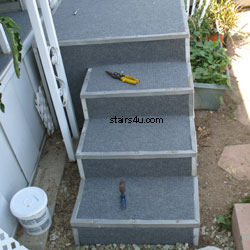 Portable stairs come in a variety of different shapes and sizes. They can be built out of almost every building material imaginable. Some of these stairways will need to be moved with a forklift, while others could be moved by a child.
Problems With Portable Stairs
Some portable stairs aren't safe to use, because they're not securely attached to a large building or floor. I've walked up and down plenty of portable stairs that should have been taken to a landfill.

I'm often amazed at how many times I visit someone who lives in a mobile home and actually use stairs that are practically falling apart. Some of these portable stairs even came from someone else's mobile home and they rarely meet local building codes.

I can't stress this issue enough, if you're stairs are wiggling and have loose handrails, they're probably unsafe to use. Even though you have become comfortable using them, could you imagine what could happen to someone who wasn't?

If money is an issue, it wouldn't be a bad idea to put a small cardboard sign in plain sight for anyone approaching the stairway, to provide them with a warning that the stairs aren't safe.
Stairs
/
Stair Glossary
A
B
C
D
E
F
G
H
I
J
K
L
M
N
O
P
Q
R
S
T
U
V
W
X
Y
Z