Post - Structural Framing Materials
Posts are structural framing components that are used to hold something up or provide additional reinforcement for another part of the building. The white arrows in the picture below are pointing to individual posts that have been installed to provide additional support for this handrail system.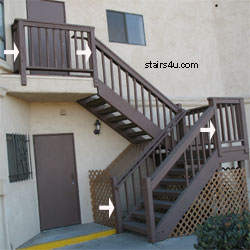 Handrail Post Installation Advice
The best advice I can give anyone for installing a post that's going to be used to support a handrail, would be to make sure that it's installed correctly. The handrail post usually provides most of the structural support, for the handrailing system.

Each post should be securely fastened to other framing members and they should be strong enough to resist any pressure that is applied to them.
Problems With Poorly Installed Handrail Posts
The white arrow at the bottom of the picture above is pointing to a post that was not installed properly. It wasn't difficult for me to move this post from side to side.

Could you imagine a large person walking down the stairs, holding onto this wiggly handrail and then stumbling? It wouldn't be a pretty picture and I wouldn't want to be the property owner, especially if this individual was a lawyer.
Supporting Post Tip
If you're a property owner and you have one or more guard rails on your property, make sure that they are securely fastened and meet local building code requirements.
Stairs
/
Stair Glossary
A
B
C
D
E
F
G
H
I
J
K
L
M
N
O
P
Q
R
S
T
U
V
W
X
Y
Z