Quarter Turn Fitting - Stairs And Handrailing
A quarter turn fitting that's used for stair handrails has one 90° turn and is used to connect to a banister or other handrail fittings. The picture below provides you with an excellent example of a quarter turn fitting made out a Oak.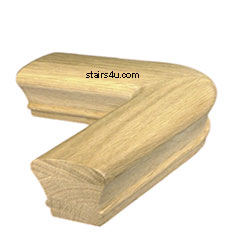 How To Select Stair Handrailing Parts
If you're planning on building a stairway handrail system and you're not familiar with most of the parts that you're going to need, it wouldn't be a bad idea to find a local stair parts distributor, in your area.

It's not uncommon to find someone who works at a lumber yard or home improvement center, who doesn't know the first thing about stairs or handrails. It's almost like asking a contractor for dental advice.
Building Stairways And Handrails
I would like to point out another problem that most beginners, do-it-yourselfers or weekend warriors have when it comes to building stairways and handrails. They seem to be lacking one of the most important things to accomplish these tasks correctly, "Knowledge.

It wouldn't be a bad idea to go down to your local library or shoot onto the Internet, to find a few books that could help you with your next project. The more information you have at your disposal, the easier it will be to complete it in a timely manner and end up with a decent product.
Stairs
/
Stair Glossary
A
B
C
D
E
F
G
H
I
J
K
L
M
N
O
P
Q
R
S
T
U
V
W
X
Y
Z