Radial Arm Saw - Stair Construction Tools
A Radial Arm Saw has a movable head that is attached to a sliding bar. This allows the saw blade to move back and forth on top of a table, providing you with another way to cut a Straight piece of wood. The picture below provides you with an excellent example of a Radial Arm Saw.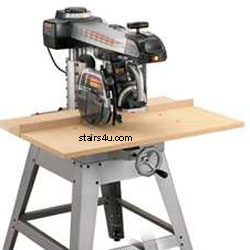 Large Or Small Radial Arm Saws
A lot of times bigger is better, but if you need to put a large saw like this one, into your vehicle and take it to your job sites, this might not be the case. Make sure that you purchase a saw that's going to work for you, without breaking your construction budget.

In other words, try to figure out your exact needs for a Radial Arm Saw, before purchasing one.

When I was working on the tracts, framing lots of houses, it wasn't uncommon to have a 16 inch Radial Arm Saw, on the job. These things were monsters and they operated off of 220 V of electricity. They actually had a button on them that you would hold down for a few seconds, before the saw blade actually reached full operating capacity.

I don't know if you're going to need a saw like this one, around the house, but if you're going to cut large pieces of wood, for your stairs, you're probably going to need a saw with a large saw blade.

Remember, safety first and if you do purchase a Radial Arm Saw, make sure that you read and understand, all of the safety and operation instructions.
Stairs
/
Stair Glossary
A
B
C
D
E
F
G
H
I
J
K
L
M
N
O
P
Q
R
S
T
U
V
W
X
Y
Z