Rail Bolts - Stair Handrail Building
Rail bolts are used to fasten handrail parts together. The picture below provides you with one type of handrail bolt that can be used to fasten a banister to a newel post. These rail bolts come in a variety of different shapes and sizes.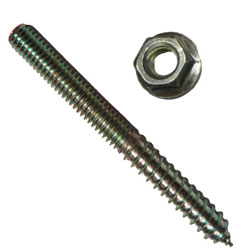 Rail Bolts Installation Tips
You're probably wondering how in the world you could possibly screw this into a piece of wood. Well, I'm going to share another one of my tricks of the trade with you, so that you will no longer be in the dark.

They actually sell a tool that you can use that attaches to the treads that the nut screws on to. This tool works great, but you're going to need to find someone who has it or make sure that you pick one up from your local stair supply warehouse, when you order your handrailing parts.

If you're not interested in purchasing the tool, you can always take two nuts and thread them onto the rail bolt. Tighten the two nuts together until they aren't moving and then they can be used to screw the lag bolt portion of the bolt into the newel post.
Stairs
/
Stair Glossary
A
B
C
D
E
F
G
H
I
J
K
L
M
N
O
P
Q
R
S
T
U
V
W
X
Y
Z