Reference Line - Stair Builders Tip
A reference line is any line that is drawn on any building materials that provides a construction worker with additional information. In the picture below, the black arrows are pointing to reference lines made on a stair stringer. Each one of them represents something different to the stair builder.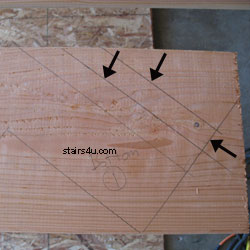 Most reference lines will have writing next to them or symbols that the builder is familiar with. It's not uncommon to have plenty of these lines or marks all over the floor of a building that's ready to be framed.
What Do The Reference Lines Represent In The Picture Above?
Even though I was responsible for laying out the stair stringer in the picture above and didn't provide a description of each line or what it represented, they still represent something to me. However, I would need to provide more information, if I was working with another person.

The arrow on the right is pointing to the front of the bottom riser. The next arrow located in a counterclockwise direction, represents the building floor line. This would be the top of the floor, if you rotated the stringer around into the proper position, you might have a better idea, what I'm talking about.

The next arrow is pointing to a reference line that I made to represent the thickness of the stair treads. The next line (without an arrow) will be the line I used to cut and create the bottom of the stair stringer.

Together these three lines that run parallel to each other, represent materials that I need to compensate for, when I'm laying out my stair stringer. If you look towards the bottom of the picture, you will also see a reference mark that I made to remind me that this is the first step at the bottom of the stairway. I used the word bottom and circled a number one, just in case I got turned around while working on the stairs.

You should use as many reference lines as you need, but be careful and try to avoid marking them on building materials that need to be painted, stained or finished. The last thing you want to do is remove a pencil mark or worse than that, a permanent marking pen, from your finished stairway.
Stairs
/
Stair Glossary
A
B
C
D
E
F
G
H
I
J
K
L
M
N
O
P
Q
R
S
T
U
V
W
X
Y
Z