Repairs - Stair Construction And Renovation
Repairs are made on things that are broken. Home repairs are made on homes that are damaged or broken. The picture below provides you with a repair that was made incorrectly. Usually when this happens, the homeowner will need to pay for additional repairs, when these repairs fail.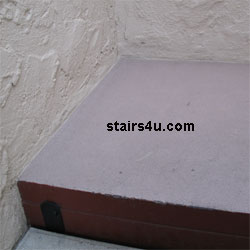 Home Repair Advice You Can't Live Without
If I had $500,000 for every time I ran into a situation where someone hired a handyman or even a contractor, to repair something incorrectly, only to pay me later to repair it correctly, I would be a multimillionaire.

The best home repair advice I could give anyone, would be to hire someone with experience. I know this is going to shock you, but just because you hire a licensed contractor, doesn't mean that you're hiring someone with experience.

I've met plenty of construction workers who have more experience than the contractors there working for.
How Would I Know, Whether Or Not Someone Has Enough Experience To Make The Necessary Home Repairs?
You're probably not, unless you've educated yourself about the individual home repair that you're planning on hiring someone to fix. The only way you're going to be able to do this is to gather as much information about home improvements, construction and home repairs as possible.
Stairs
/
Stair Glossary
A
B
C
D
E
F
G
H
I
J
K
L
M
N
O
P
Q
R
S
T
U
V
W
X
Y
Z