Rosette - Finished Stair Handrailing
A Rosette is usually located at the end of a banister that is connecting to a wall. The picture below provides you with an excellent example of what a Rosette looks like, but don't forget that they come in a variety of different shapes, sizes and are made out of a variety of different materials.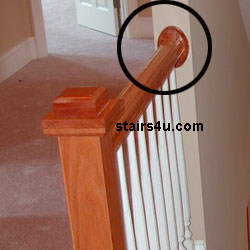 Simple Woodworking Rosette Trick
Most of the time, a Rosette is cut from a flat piece of scrap wood and can usually be made with a router. They're not difficult to make, if you have a jigsaw and router.

Draw the design you're looking for on a piece of cardboard or directly onto the wood you're planning on cutting and then cut it. After you've cut it, you can router the edge with a router bit of your choice.

However, if the Rosette is small, like the one in the picture above, it wouldn't be a bad idea to drill a hole through the center of the Rosette and firmly attach it to a larger piece of wood. This would provide you with something that you could hold onto, while routering around the edge of the small Rosette.

You could attach any small objects to another board to router or cut, just make sure that you're not installing the screw in a spot that's going to be exposed, after the project has been completed.

For example I wouldn't want to drill a hole through the upper section of the Rosette in the picture above, because the handrail banister wouldn't cover it up. However, a hole drilled in the center of the Rosette, would easily be covered up by the banister.
Stairs
/
Stair Glossary
A
B
C
D
E
F
G
H
I
J
K
L
M
N
O
P
Q
R
S
T
U
V
W
X
Y
Z