Rough Carpentry - Building And Framing Homes
Rough carpentry is another word that can be used in place of rough framing. Rough carpentry is the process used by carpenters to create the wood frame or shell of the building. The picture below provides you with a good example of walls that were framed by rough carpenters.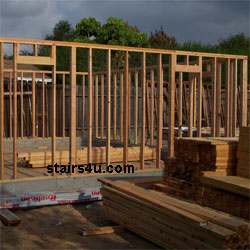 What Is A Rough Carpenter?
It's probably a guy who goes down to the bar after work, drinks all night, gets in a few fights, gets a couple of hours asleep and then they're back working the next day. Well maybe that's one type of description for a Rough Carpenter, but that's not really the type of Carpenter were referring to.

A Rough Carpenter is usually referred to in the home building industry has someone who works on the framing crew and is responsible for building the walls, floors, ceilings and roof.
Stairs
/
Stair Glossary
A
B
C
D
E
F
G
H
I
J
K
L
M
N
O
P
Q
R
S
T
U
V
W
X
Y
Z