Rubber Stair Treads - Steps And Safety
Rubber stair treads come in a variety of different shapes sizes and colors. The picture below provides you with an excellent example of a brown rubber stair tread, with groves, to provide the people who walked up and down the stairway with additional traction.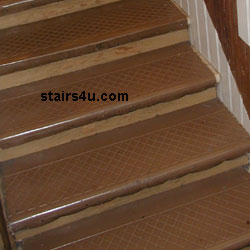 Rubber stair treads provide most building owners with a sense of security. As long as these treads are fastened properly to the stairway, there's a good chance that no one is going to slip or get injured, especially if they're used to cover smooth steps.
Should I Purchase Rubber Stair Treads?
A better question would be, should I purchase rubber stair treads to avoid people slipping on smooth stair treads and falling down the stairs? The answer to that question, is absolutely, "Yes."
Are Rubber Stair Treads Safe?
Maybe, because if they're not installed correctly or maintained, they won't be. I've walked up plenty of poorly maintained stairways that had sections of the rubber treads missing.

I've also found pieces sticking up, because they weren't attached properly or they need to be replaced. A stairway isn't going to be safe, if you have pieces of rubber missing or sticking up around the edges, creating trip hazards for the users.

The only way rubber stair treads are going to be safe is if they were installed correctly and maintained constantly.
Stairs
/
Stair Glossary
A
B
C
D
E
F
G
H
I
J
K
L
M
N
O
P
Q
R
S
T
U
V
W
X
Y
Z